As a service provider, you have to find new ways to attract new customers, retain existing customers and add new services all the time.
Customers are constantly looking for new services, so you have to be on top of your game.
And the market is getting a lot more competitive: the big cloud providers are eating into your market on the one side, while low-cost emerging companies are bringing disruption from another direction.
Service providers are feeling the squeeze from all sides: costs are under pressure; there's increasing demand for new and innovative services; and they are having to work harder than ever just to stay where they are.
It's at times like this that partnering with the right technology provider can make all the difference.
Fujitsu understands the pressures service providers face, which is why it offers them higher performing products; solutions precisely tailored to individual customer needs; and commercially innovative finance and service options.
Grow and de-risk with Fujitsu
Service providers are the people that customers turn to when they need always-on computing, on-demand storage and services that can be consumed as and when required.
This means they have to provide a wealth of services that may or may not be used, while planning for expansion that may or may not happen.
This puts them in the uncomfortable position of having to take a lot of expensive bets about their business.
But what if service providers could buy their IT infrastructure in a more flexible way: paying for capacity when they use it; and even with the option of returning equipment if they don't need it anymore?
Now they can do just this.
With solutions and services from Fujitsu, service providers can now move up the value chain and become service integrators.
Ruediger Frickenschmidt, head of EMEIA xSP and IoT at Fujitsu, explains that Fujitsu is dedicated to de-risking the journey for service providers.
De-risking comes in two forms, and can be tailored to the client's specific needs.
The first model is around growth capacity, Frickenschmidt explains. In this scenario, the customer pays for his base hardware and software configuration – but there's an additional buffer added in case additional capacity is needed. The service provider pays only if and when this buffer is used, and then only for the portion and time it's used.
If the business grows and the buffer is used more frequently, it can be incorporated into the base infrastructure, and a new buffer added.
In this way, the service provider doesn't pay for capacity that's not being used, Frickenschmidt points out.
He second model allows the service provider to actually return data centre equipment if the business changes or scales down.
"If the customer has a 36-month or 48-month contract for the equipment, but decides after 24 months that it's no longer required, we will simply take it back," Frickenschmidt says.
Together, these two models protect the service provider from a range of risks: capacity risk; lock-in risk; cost risk; downtime risk; migration risk; and slow time to billing.
"We are committed to working closely with all of our service providers to help ease all of their pain points," Frickenschmidt says.
When it comes to capacity, the ability to create buffers or return equipment is a huge benefit for service providers who need to plan for maximum usage – but don't want to incur the costs for hardware that's standing idle.
Lock-in is avoided because Fujitsu will take its equipment back if the service provider downsizes or decides to switch to a different environment. "The market can change, and service providers sometimes need to change too," Frickenschmidt explains.
In similar vein, a new cloud provider might enter the market, or customer needs might change from what the service provider offers, so revenues in a particular area could drop – and it could happen quickly. Being able to return equipment protects the customer against cost risks.
Downtime can be a massive risk for service providers. Fujitsu designs its hardware to the highest standards to avoid unplanned downtime, but planned downtime is a reality. If this has to be moved or rescheduled, unexpected risks can crop up. The ability to take parts of the system down without affecting other parts is a boon for service providers.
"We know that setting up a data centre is an expensive business, and migrating to a new environment incurs extra costs – while requiring costly skills – that businesses often just don't have.
"So we create micro-alliances or ecosystems where we can help run services for our customers; or link customers up with one another where there is a symbiosis. We can bundle these solutions and offer them to service providers as a service."
Systems that work together without lengthy implementation and testing, but can be up and running often in a matter of hours, helps to mitigate the time to billing.
Supplying equipment that's designed for the service provider environment is another way that Fujitsu helps to de-risk the customer journey, Frickenschmidt adds.
Because Fujitsu products are pre-tested to work in a converged and hyperconverged environment, service providers can save valuable time and resources on deployment.
Further savings come in during operations as well. Because Fujitsu products are energy efficient, they can help customers to save up to 30% of their electricity bill.
"Yes, we sell industry-standard hardware," Frickenschmidt says. "But Fujitsu servers are the most compatible with VMware, so customers can run 3% more virtual servers on Fujitsu than comparable hardware from other vendors."
Fujitsu helps customers to save on licensing costs too. Storage software licencing is paid on the initial base configuration, at rates similar to other storage vendors. When arrays are added, there's no additional licencing costs, so Fujitsu storage becomes more cost-effective as the customer grows – unlike competitive products where additional software costs are incurred as storage capacity is added.
"If you take the savings from faster deployment, lower electricity costs, increased capacity and lower software licensing costs, it adds up to real benefits on the customer's bottom line, and offers substantial benefits to the business.
"And our products just don't fail: they are superb quality."
Fujitsu's solution aims to anticipate and solve the many challenges that service provider face in their quest to become service integrators, Frickenschmidt adds.
"We have engaged with our service provider customers, including a number of core customers in South Africa, to tailor our solutions to their needs," he says. "We have focused on how we can help them to move their businesses forward.
"We want to engage with the service providers on a partnership basis, and create ecosystems or value chains that benefit everyone. There is not just one single answer to their needs: some need help with skills, some need a deployment tool, others have no hardware, and still others want to do everything themselves.
"IDC talks about micro-alliances and we are actively creating them in our service provider business."
The South African operation is the first Fujitsu team in EMEA that is taking the service provider offerings to market, Frickenschmidt adds. "In South Africa, service providers are taking the next step to becoming service integrators."
Manage the hybrid cloud with Enterprise Service Catalogue Manager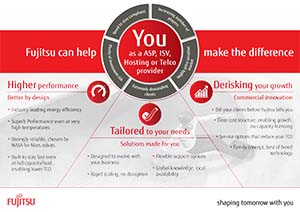 CIOs have a tough job nowadays: they have to make sure the various applications, services and solutions consumed by users all fit together, and work in the best interests of the organisation.
There is a wealth of services available to users, and CIOs need to ensure they are thoroughly tested, secured and managed, and that the right users get access to the right services when they need them.
The CIO has to juggle the on-premise environment with the offerings from various service providers while offering users a seamless experience that is secure, fits governance imperatives and doesn't let costs run out of control.
As a service provider, you know your customers and users are spoilt for choice, so you have to achieve the best possible visibility and market positioning for your own offerings.
You also have to make sure it's easy for customers to book and use your services, so you want provisioning to be pretty much automatic.
We know it's a multi-cloud world out there, and customers want to consume services from various different service providers, together with their on-premise services, so you need to ensure that the solutions you offer are interoperable and compatible with other offerings out there.
There's a solution that eases the pain experienced by both CIOs and service providers, and lets them give users secure access to a range of both on-premise and multi-cloud services.
Fujitsu Software Enterprise Service Catalogue Manager provides a self-service portal for enterprises and service providers to automate the delivery of their software services, infrastructure services, or platform services to their employees and customers.
Fujitsu Enterprise Service Catalogue Manager has as continually growing set of pre-packaged adapter that seamlessly integrate many types of hybrid cloud services. It provides functions for calculating usage fees based on actual usage and for generating reports.
Services can be integrated into the portal with small effort because all the necessary business enablement features are already in place – including user registration, user and subscription management, service provisioning, reporting, and functionality for processing payments and invoicing.
By using Fujitsu Enterprise Service Catalogue Manager, companies can raise their IT operational efficiency and enhance the convenience of hybrid cloud services.
Ruediger Frickenschmidt, head of EMEIA xSP and IoT at Fujitsu, describes it as the "app store" of service management.
"Service providers are battling with increasing complexity and falling margins, and need to differentiate themselves from their competition," he explains.
"With the Fujitsu Enterprise Service Catalogue Manager, we can help you change from being a service provider to being a service integrator. Now, you can move up the value chain to focus on digital transformation and digital competence."
Fujitsu takes some of the risk out of this journey, he adds. "We help to reduce risks like shifting capacity needs, unacceptable downtime, vendor lock-in, slow time to market of a dependence on a single platform – whether that's your own platform or a public cloud."
The self-service portal in Fujitsu Enterprise Service Catalogue Manager allows for an "app store-like experience", Frickenschmidt says. "Customers can order services from a centralised menu; and they will be automatically deployed, either on-premise or in the cloud."
In addition, in a multi-cloud scenario, multiple services can be deployed he adds. "As a service provider, you have complete flexibility to manage and pricing, services, billing and reporting for each customer."
In fact, Fujitsu Enterprise Service Catalogue Manager can be thought of as self-service for the hybrid cloud, Frickenschmidt says. "It's a single portal that allows you to easily solve customer needs for any cloud."
Customers get their own bespoke layout, with lists of their specific services in their own branded menu. Different services are listed, along with their options and pricing, with straightforward and easy-to-understand descriptions.
"Selection is easy and, once the customer has selected a service, further deployment is automatic," Frickenschmidt explains. "No further action is required from the service provider.
"We call this automatic deployment the Connector, and it is available for software as a service (SaaS) or infrastructure as a service (IaaS) – and it allows for connection to the data centre or to a cloud platform.
"Connecter lets the service provider define the services offered to the customer, while hiding much of the technical complexity and leaving the most relevant choices for the customer to see."
With Fujitsu Enterprise Service Catalogue Manager, there's complete control over the pricing and options displayed to the customer.
Further customisation is available in the form of reports tailored to the individual customer based on their usage, terms and conditions.
"Helping service providers give customers this personalised experience is one way Fujitsu is helping to shape the business of tomorrow," Frickenschmidt says.
Build on a solid foundation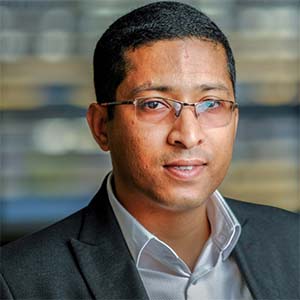 By Abdul Moosa, chief technology officer of Fujitsu SA
Service providers have to ensure their services run 24/7 with no delays or performance issues. This means their hardware platform has to be top-quality and reliable.
Fujitsu meets this need with a portfolio tailored for service providers that offers higher performance, tailored to their needs, that derisks growth.
Higher performance
Your customers expect outstanding reliability- and they don't listen to excuses. The quality and dependability of Fujitsu Primergy servers and Eternus storage products make it easy for you to meet and exceed customer expectations, while keeping your business more profitable.
Fujitsu products are better by design, delivering:
Much lower downtime;
Better scalability;
Enhanced performance at high temperatures; and
Outstanding speed and responsiveness at 100% capacity.
Fujitsu Primergy servers and Eternus storage systems use close to 20% less energy than competitor products to carry out the same tasks.
Fujitsu products all include Cool-Safe technology, which safeguards performance even at temperatures as high as 40°C while under full load, 24×7.  In fact, Fujitsu Eternus storage products show no perceptible decrease in speed and response times, even at 100% capacity.
The Eternus Operating System has a small footprint, so more of the cache can be used to boost performance. Meanwhile, the design specification includes 12-gigabit backend and enough channels to move data at extremely high speed, no matter what the load levels.
Fujitsu Primergy servers are designed for mainframe levels of reliability from the ground up, with a design focus on continuous availability leading to highly redundant servers with high fault tolerance and self-healing capabilities. They allow for the hot replacement of components as well as the ability to deliver firmware updates without downtime.
Tailored to your needs
Fujitsu works collaboratively with a network of world-class technology partners to provide solutions that offer the reliability and flexibility to match changing operational realities.
Products and support services are designed for maximum flexibility, so customers can protect margins, reduce risks and stay in control of their future development.
Fujitsu is expert in hybrid IT, as well as in software-defined storage solutions, so solutions officer world-class responsiveness, agility and cost-efficiency.
Fujitsu Primergy servers and Eternus storage products are designed as integrated families of products, so there is a smooth and easy upgrade path from entry level to the highest performance enterprise systems. A consistent design approach ensures maximum interoperability, with use of many of the same components and functions.
Eternus storage products scale from two and 24 storage controllers, while dynamic load balancing makes scaling simpler, and automated Quality of Service ensures that performance remains consistent.
The Fujitsu design approach means that there is less need for upgrades, as both Primergy servers and Eternus storage products continue to perform to the highest levels as capacity limits are reached.
Plus, there is no need to migrate to new platforms to upgrade, so the step up in capacity is smoother, easier, less risky and less costly
Derisking growth
Fujitsu wants its service provider customers to be successful and gain competitive advantage, so the company reduces risks to make growth easier and more profitable.
It does this by deploying a clear cost structure, with no capacity licensing.
In addition, all Fujitsu products are designed as families, using a high proportion of common components and operating systems, so there is no learning curve to upgrade.
Fujitsu will also help service providers  to develop new opportunities for your own customers, based on its best in class technology and maximising the potential of its world-class technology partnerships.