In the fast-paced world of digital business, IT organisations are under pressure to create environments in which flexibility and speed are paramount.
At the same time, they are expected to keep a close eye on costs.
Faced with these requirements – and knowing that business success is dependent on them being met – IT faces yet another massive challenge: their data centre operations often still run traditional hardware-defined data centre architectures; which makes it increasingly difficult to meet the business challenges.
New approaches are needed, that will help IT to become more business-centric and thus better positioned to meet future business challenges.
The virtualisation of computing resources has greatly improved data centre operations over the past decade, and now many organisations are now looking to extend virtualisation to other IT resources.
A Software-Defined Data Centre (SDDC) strategy is key to providing the operational efficiency and agility necessary to cope with the ever-increasing demand for more responsive and cost-efficient IT support.
An SDDC is based on a fully virtualised infrastructure that is centrally managed using extensive automation technology.
Importantly, given the growth of cloud computing, an SDDC solution can be deployed either on-premise or off-premise – or both. This means that IT resources can be consumed from a private, public or hybrid cloud.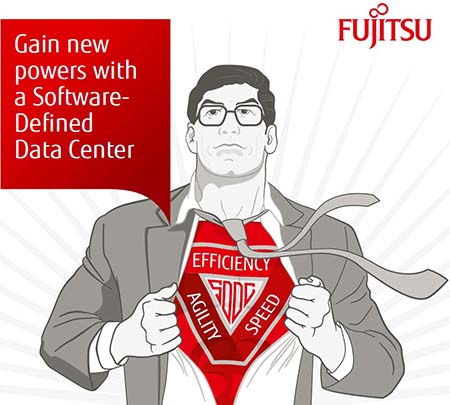 Challenges in making SDDC happen
Building an SDDC environment with a do-it-yourself approach can be a complex, time-consuming and error-prone process. There are several phases in the development of a software-defined data centre infra-structure, each of which has its own challenges.
At each phase, IT needs to select the right set of server, storage, and networking hardware resources, and ensure that the hardware is compatible with the SDDC software stack. They must then install and configure the hardware and software stacks.
The IT department must take care to patch and upgrade existing pools of resources – as well as add new pools of resources – to keep the infrastructure highly available and conforming to performance requirements.
Among the stumbling blocks on this path are existing silos within IT that make the quick deployment of resources especially challenging. Poorly-understood best practices can also cause delays; and a need to maintain security protocols could create performance bottlenecks.
Once operational, a single point of contact is required to ensure that systems run smoothly, and issues can be addressed as quickly as possible.
Why integrated systems work
New research from a user survey on data centre infrastructure deployment options conducted in April 2017 shows that customers increasingly realize the value of integrated systems.
When asked about their delivery model preferences, the survey revealed that overall 56% and even 76% of the best performing IT organisations see the use of pre-integrated systems as an important part of their platform mix.
In fact, the survey found that the best performers are increasingly adopting a "self-build by exception" policy.
Key outcomes from this approach include:
* Faster time to production with 90%+ time savings on planning and deployment efforts through factory-integrated delivery and automated initial start-up.
* New levels of agility and productivity with 58% less time spent on routine IT activities thanks to the completely virtualized environment in combination with automated life cycle management.
* Significant capex and opex savings with 45% reduction in TCO over a traditional three-tier alternative thanks to a smaller hardware footprint and streamlined operation environment.
Fujitsu Integrated System PRIMEFLEX for VMware Cloud Foundation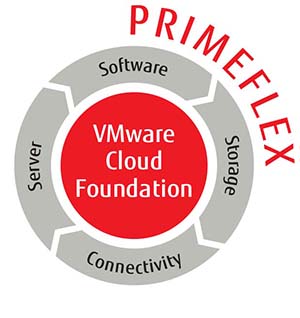 In order to reduce risk, Fujitsu and VMware have been working together to provide a turnkey factory-integrated system, with all the hardware and software required for rapidly deploying a large-scale hyper-converged software-defined data centre infrastructure.
These solutions would  enables IT organisations to run highly scalable general purpose server virtualisation environments, virtual desktop infrastructures or Infrastructure as a Service deployments.
Based on a high-performance Fujitsu/Cisco/QCT hardware platform and market-leading VMware software technology, featuring software-defined compute, storage and networking in combination with integrated management of physical and virtual resources, PRIMEFLEX for VMware Cloud Foundation offers fast time to production, reduced management complexity and lower total cost of ownership (TCO).
PRIMEFLEX for VMware Cloud Foundation is a  turnkey integrated system that includes all the hardware and software needed to simplify deployment of a large-scale hyper-converged software-defined data centre infrastructure.
It combines high performance, energy efficient Fujitsu PRIMERGY standard x86 servers and VMware Cloud Foundation, VMware's integrated platform that delivers enterprise-ready services for computing, storage, networking and security in combination with unique lifecycle management capabilities.
The underlying computing platform comprises Fujitsu PRIMERGY rack servers, providing massive scale-out x86 server power, while still delivering ideal economic efficiency in terms of server density, energy consumption, heat optimisation and lower operating costs.
Fujitsu x86 servers have a long track record of continuous outstanding benchmark results, enjoying the longest leadership positions in most of the VMware VMmark benchmark categories.
Thanks to the Fujitsu Cool-safe advanced thermal design, additional cooling costs can be saved on top of comparatively low  energy consumption.
The VMware Cloud Foundation software stack delivers an enterprise-ready cloud infrastructure by combining VMware's highly scalable, hyper-converged software, comprising vSphere and vSAN, with the network management efficiency of NSX.
For the logical infrastructure, the familiar VMware virtualisation and management components are augmented by a new component, the VMware SDDC Manager.
Combined with Hardware Management Services (HMS), the SDDC Manager provides a single centralised view of both the physical and logical infrastructure – from hardware device level details and network topology to VMs – and is fully integrated and interoperable with existing VMware software as part of the suite.
The SDDC Manager delivers key lifecycle management tasks, including upgrades and updates, significantly reducing maintenance efforts and achieving meaningful OPEX savings.
Automated bring-up and configuration PRIMEFLEX for VMware Cloud Foundation can be put into productive use within a few hours instead of days or weeks, providing IT organisations with the fastest way to deploy a complete infrastructure for a software-defined data centre.
How it works
The PRIMEFLEX for VMware Cloud Foundation architecture consists of three basic layers: hardware, virtualization, operations and management.
The foundation of PRIMEFLEX for VMware Cloud Foundation is based on a hyper-converged infrastructure (vSAN Ready Nodes), which means that compute and storage for VMs are delivered from the same x86 server platform running the hypervisor.
The vSAN Ready Node that has been pre-qualified for use in VMware Cloud Foundation is based on FUJITSU Server PRIMERGY RX2530 M2 dual-socket rack servers providing high performance with the new Intel Xeon processor E5-2600 v4 product family and expandability with up to 10x 2,5-inch storage devices – all in a compact 1U housing.
PRIMEFLEX for VMware Cloud Foundation includes a prescriptive network design within and across racks. The design requires a leaf-spine topology involving Top of Rack (ToR) and spine switches. The SDDC Manager integrates the management of the physical network infrastructure with the management of the logical network infrastructure.
Each physical rack contains two Cisco N93180YC-EX ToR switches, which control network traffic and redundancy, and a QCT QuantaMesh BMS T1048-LB9 management switch which provides the connectivity for out of band management. With scale out across multiple racks, east-west traffic is fully self-contained.
Connectivity between racks is provided by means of two Cisco Nexus 9332PQ inter-rack spine switches. Connection to the existing data centre infrastructure is via L2/L3 uplinks through the ToR switches.
PRIMEFLEX for VMware Cloud Foundation includes the VMware Cloud Foundation software stack, consisting of VMware vSphere, vSAN, NSX and the SDDC Manager.
The SDDC Manager is the operator's primary interface for day-to-day tasks and provides centralised access and an integrated view of both the physical and virtual infrastructure.
On Day 0, the SDDC Manager automates bring-up of the software and configuration of physical entities, including the spine and top-of-rack switches.
After Day 0, the SDDC Manager dramatically simplifies operations and management with capabilities such as non-disruptive, automated lifecycle management and integrated performance management, capacity optimisation and realtime log analytics. In addition, the SDDC Manager provides REST-based APIs for integration with the existing data centre management and monitoring tools.
Fujitsu Integrated System PRIMEFLEX for VMware vSAN
While converged infrastructure deployment models have greatly improved data centre operations in the last couple of years, many organisations are now looking at hyper-converged systems as the next step forward by leveraging the software defined design principles to further streamline the convergence of infrastructure.
To mitigate the risks in deploying your core virtual infrastructure foundation, Fujitsu and VMware have been working together to provide an integrated system for setting up a hyper-converged IT infrastructure delivering a next-generation virtualisation platform that includes software-defined compute, storage and networking resources: Fujitsu Integrated System PRIMEFLEX for VMware vSAN.
For quick setup of an entire VMware vSAN environment Fujitsu provides a broad range of validated server configurations (vSAN Ready Node profiles) with preinstalled software.
These configurations allow for further customisation to meet the individual needs of your workloads.
The underlying hardware platform of PRIMEFLEX for VMware vSAN is based on Fujitsu x86 servers, which typically score top rankings in VMware VMmark benchmark categories.
PRIMEFLEX for VMware vSAN gives IT organisations the ability to granularly scale-up or scale-out their compute and storage environment to a maximum of 64 hosts serving up to 6400 virtual machines.