A safe  city can mean many different things to different people, but arguably the most pressing need for smart technology is felt when civil unrest becomes an issue.
South Africans are no stranger to protest action, when citizens take to the streets to make their voices heard. But there's always a very real danger that peaceful protests can precipitate violent actions or reactions.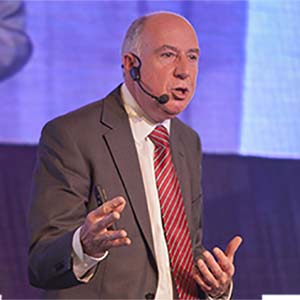 Peter Goulding, Global Public Safety Expert at Huawei Technologies, explains that technology can be used to give police and other services visibility of civil action, helping them to prevent things getting out of hand.
The first thing that needs to happen is that the route of the march of protest must be visible, Goulding says. "We need to ensure that we have the necessary policing coverage, and we need to pay particular attention to vulnerable parts of the route, and ensure that we have visibility of those."
Of course, anything involving as many different factors as civil action is, by its nature, unpredictable. So authorities need to ability to be flexible. "You need to monitor something that is fluid, and could change very quickly."
Not only must the police monitor the protestors, but they also have to be on the watch for opposition groups that might want to infiltrate or disrupt a march or protest.
A combination of technologies can be employed to do this monitoring, Goulding explains. But the real benefit comes from using analytics to  help police and other service personnel on the ground to make the right decisions in a pressured situation, and take the appropriate action.
Traditional CCTV cameras could be employed to monitor an event's venue or route – or flash points on the route. But these can be supplemented with pictures or videos from a variety of devices, like cell phones or citizen submissions.
Inside the control room, analytics can be used to pinpoint specific actions, or identify known faces in the crowd.
Meanwhile, social media can be monitored to determine the sentiment on the streets, or whether groups are being mobilised.
The analysis can then be fed back to personnel on the ground, to help them take action to defuse or prepare for a situation even before it happens.
Meanwhile, other smart city technologies can ensure that traffic lights keep people and traffic flowing smoothly. Street lights can also be remotely controlled.
"We don't want to stop people from exercising their democratic right to protest," Goulding stresses. "But we need to make sure we are able to properly manage things so people can exercise their rights peacefully, and without interference."

Although police are often on the ground during protests, and when violence breaks out, it difficult for them to make informed decisions without having access to all the information.
"Sometimes the police on the ground can't see the wood for the trees," Goulding points out. "They are required to take decisions very quickly; and until now they could only do that with the information in front of them.
"But with smart technology we can give the best possible information to the police commander at the scene. When we put all the information together, and run analytics on it, the control centre can put everything together and see what is really happening."
The people on the ground can then get detailed information about their own areas of concern. For instance, policemen walking with the crowd would get a different information feed than the traffic authorities.
Should incidents occur despite everything, the control centre can call on the correct emergency services, and make sure they get to the scene in the quickest way possible.
"We want to be able to use the analytical tools to process all forms of information, from video to communications that might be in the public domain. This way we can allow people to protest peacefully, and to be safe while there are doing it.
"If there are criminal elements, we can nip them in the bud; and if we can't prevent something, we can isolate and contain it.
"With smart technology we can differentiate between people who are protesting peacefully and those who are not peaceful."
In the event that medical assistance is needed, technology can be used to ensure that patients are sent to the right hospital for treatment– and that the hospital is expecting them, with a full knowledge of what care will be required once the patient arrives.
"There is an interesting project in Europe, where a tag is used to measure vital signs and effectively perform triage at the scene.
"This helps to get the right treatment to the right personat the right time and in time. And, when the patient is wheeled through the doors of the hospital, staff already know exactly what they need to do."

Huawei is a leader in smart city and safe city technologies and how these benefits can be implemented.
The company has made Nairobi into a safe city, and has also done work in Ghana.
Frost and Sullivan recently recognised Huawei for its smart city solutions. "We have some real cutting edge technologies for safe and smart cities," Goulding says. "Beyond the technology, we believe in working together with all the stakeholders. Once we get that right, we can start building."
On the technology front, Huawei supplies the backbone network connectivity, with the ability to share, exchange and analyse both structured and unstructured data.
"Huawei puts the software right into the platform to let the applications run so much better," Goulding says. "We do the heavy lifting, the shifting and management of the big data, and this makes it easier for cities to become safer and smarter."
Importantly, Huawei solutions are built on Open Stack, so it is able to embrace equipment from competitive vendors, which can help customers to save both time and money.
"It's important for customers that their investment have longevity," Goulding explains. "This is public money, and building a safe smart city can be a big investment, so any solution must have longevity and support. We have to help cities to maximise their investment."