As the data centre extends beyond the legacy on-premise infrastructure to embrace private cloud and public cloud, CIOs are looking for new ways to manage increasingly complex environments.
Nutanix is delivering solutions that go beyond hyperconvergence, giving IT the freedom to choose the right cloud for any workload, which lets them support business in meeting their growth and innovation goals. Kathy Gibson was at Nutanix .Next on Tour in Sandton to find out how.
We talk about how technology is changing the way we do business – but why is this change necessary?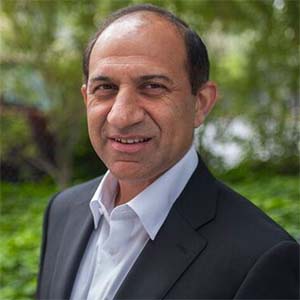 Simplicity and ease of use as a result of innovation enabled by technology gives back time and efficiency, says Pai Venugopal, head of customer success at Nutanix,
"We talk about hyperconvergence, about collapsing systems and storage – but the data centre architecture still looks the same," he says.
"This is why cloud is so attractive. Layers added to IT adds complexity – but transacting through an API means you can focus on the application."
Nutanix aims to bring this agility to users, he adds.
In the IT world today, users are customers of various vendors – and this means they have to be specialists in these technologies.
With cloud, however, you need to have cloud specialists and the individual technologies are no longer the focus.
Everything is collapsed, and you can help the CEO to achieve what they want."
CEOs want IT to make them more competitive, Venugopal explains.
There are expectations, but the legacy gets in the way of making this happen. "You have applications, you've got people, you've got specialists.
"But how do you move from an infrastructure that is hardware based? How do you abstract yourself away from these layers? How do you get away from the cycle of buy, deploy, manage, troubleshoot, upgrade, refresh?
"And how do you change internally?"
At the moment IT is hurting business, Venugopal points out. "How do you move away and blur the lines, to where cloud changes the way you think about IT?
"It's about the agility that business demands, and how you deliver on that/"
The business end-goal, Venugopal says, is to focus on applications – the opposite of what IT does at the moment.
However, currently, operating cost is 90% of IT spend, and acquisition cost is 20% of the spend.
"The journey is less about hyperconverged, but about agility and what it means to the company," Venugopal says.
"And the use of cloud opens the opportunity to re-evaluate what is means by IT and how to deliver."
Cloud is about rapid time to market, one-click simplicity continuous innovation, and fractional IT consumption
"For us it is about the pace of innovation, which people have to deal with every day. It's about releasing time so you can do things you want to do."
In the public cloud there is no such thing as downtime, Venugopal points out. For instance, Nutanix's one-click upgrade lets administrators upgrade the entire infrastructure, while it is running and in production.
"Cloud means no downtime," Venugopal says. "How do you deliver that agility?"
Nutanix is trying to ensure that the concept of the cloud is not associated with any particular vendor. "There is still a lot of confusion about cloud," Venugopal says.
The idea of cloud, he says, is making infrastructure invisible and API-driven.
Public cloud has been available for 10 years. But an IDC survey shows that 80% of customers are moving apps back on-premise, with 50% of apps planned to go on-premise over the next two years.
Cloud expense is becoming an issue, but the repatriation of apps is more about rightsizing those applications, Venugopal says.
"So how do you transform the business where the data centre needs to be completely rebooted?"
What's needed is s separation of hardware and software, he says. "Once you are software based, you can be more agile as a business.
Then you are serving the ends of the business."
He stresses that cloud is not just a destination. "Data is being created everywhere."
IT needs to deliver a unfired end to end IT fabric, Venugopal says. What's needed is to hide all the complexity so IT can focus onnthe business.
Nutanix aims to harmonise multi-cloud operation, standardising IT operations across private and private, extend the data centre with cloud, and get realtime visibility of cloud costs.
Indeed the freedom to choose the right cloud is the value statement that Nutanix offers.
It does this by providing  single software operating system for all deployments, private, distributed and public clouds.
"We are really building an operating system that spans all these layers from edge to data centre, from cloud to software, from containers to IoT – where all the complexity is factored away."
The journey is just starting, and it's not an easy one Venugopal adds.
Nutanix aims to brings cloud simplicity to the data centre.
Venugopal explains that the architecture is a distributed infrastructure fabric that makes the data centre look like the public cloud, unlocking the hardware and software from each other.
In essence, it is about converting data centre infrastructure to software, and delivering a cloud-like architecture to the enterprise.
"The journey starts with hyperconverged – building a digital ready cloud like platform in the data centre." This is accomplished with the Acropolis hyperconvergence solution.
But the weight of legacy systems is still there, Venugopal points out. To ease their management, native virtualisation through the AHV native hypervisor offers a single console for managing virtualisation and the full infrastructure stack.
The next step is elevating the silos, so everything is served a an app. Era, buckets and Files do this.
Over time, the goal is to eliminate the complexities of management, and Prism offers a single management pane. This provides one-click infrastructure provisioning, machine learning-based planning and scaling, and full stack insight and reporting.
Networking is the final piece of the puzzle. Flow offers native networking services with microsegmentation and service insertion, networking automation and orchestration, and full visibility.
"So we have converted the entire stack into software," Venugopal says. "We can now provide  single platform for all apps and data. Cloud is not a headwind: it is an extension of your data centre."
Indeed, Nutanix now offers a multi-cloud management platform that brings all clouds and on-premises together.
"We are in the early stages, but it is a fantastic journey," Venugopal says. "The full stack is a platform that offers an enterprise cloud with the freedom to choose. Everything is delivered as an app."