Schneider Electric's food &andbeverage solutions are increasing the efficiency and sustainability of the industry and its dairy solutions allow users to seize new market and profit opportunities, thanks to zero waste and 100% traceable production.
This is achieved through its EcoStruxure Hybrid DCS (formerly known as PlantStruxure PES), which helps customers manage their dairy processes in an easy, smart and energy-efficient way. The new platform improves the production monitoring and control system, while making provisions for the company's future expansion.
Dynamic and competitive, the current dairy market reflects an increased demand for safe and nutritious products. Innovation and flexibility are critical when growth hinges on the ability to meet consumer requirements, while striving for zero waste.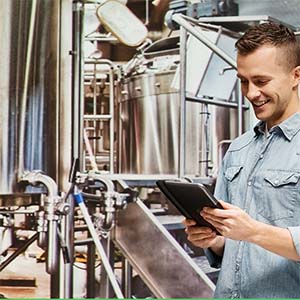 Woodlands Dairy, one of the largest manufacturers in South Africa in dairy farming plant, food and beverage, bought a second-hand powder plant from Denmark but its control system was outdated and not suitable for the modifications required to adapt the process to the company's specifications.
Top of the agenda was a single platform that could integrate all the disparate plants on site, preserve past investments in expensive assets and legacy systems, while making provision for future expansion.
The ArchestrA System Platform, consisting of the Application Server, InTouch HMI, Historian and Historian Clients trending and reporting tool, was selected, as the company had previous experience with its products.
Other reasons included:
Universal data connectivity – this would cope with Woodlands Dairy's variety of PLCs.
Object orientated technology – not only was this software more maintainable than its alternative but it also promoted standardisation.
Distributed system.
Easy to create reports and retrieve historical data.
Full redundancy.
The level of support available in South Africa.
The total implementation took about six months, half of which was spent on the new powder plant, which was commissioned first.
While the powder plant was a greenfields project, the processing plant upgrade and expansion was done live, during weekly shutdowns and the standards developed for the powder plant were rolled out for these projects.
Other process areas were also upgraded and these included a new Clean in Place (CIP) Station, a new cream pasteuriser/butter plant, an upgrade to the milk pasteuriser, new pasteurised milk silo and milk lines, new pasteurised cream silo and a new milk reception area with its own CIP station.
Schneider Electric's solution delivers energy performance improvements of up to 30%.
Manufacturing efficiency is achieved with comprehensive automation solutions that allow for a flexible production environment.
Smart power management enable a flexible environment, delivering reliable, safe and green power for sustainable and efficient food and beverage operations. Fit-for-purpose power solutions can reduce plant downtime by up to 30% plant downtime, mitigate power quality issues and minimise electrical shocks.
Schneider Electric's cloud-based software solutions help to optimise the supply chain, collecting and managing information, helping in the decision-making process and enabling performance improvement. It provides full visibility into the value chain, to increase end-to-end throughput and reduce logistic costs.