Yesterday Microsoft unveiled a first look of the new MSN in South Africa.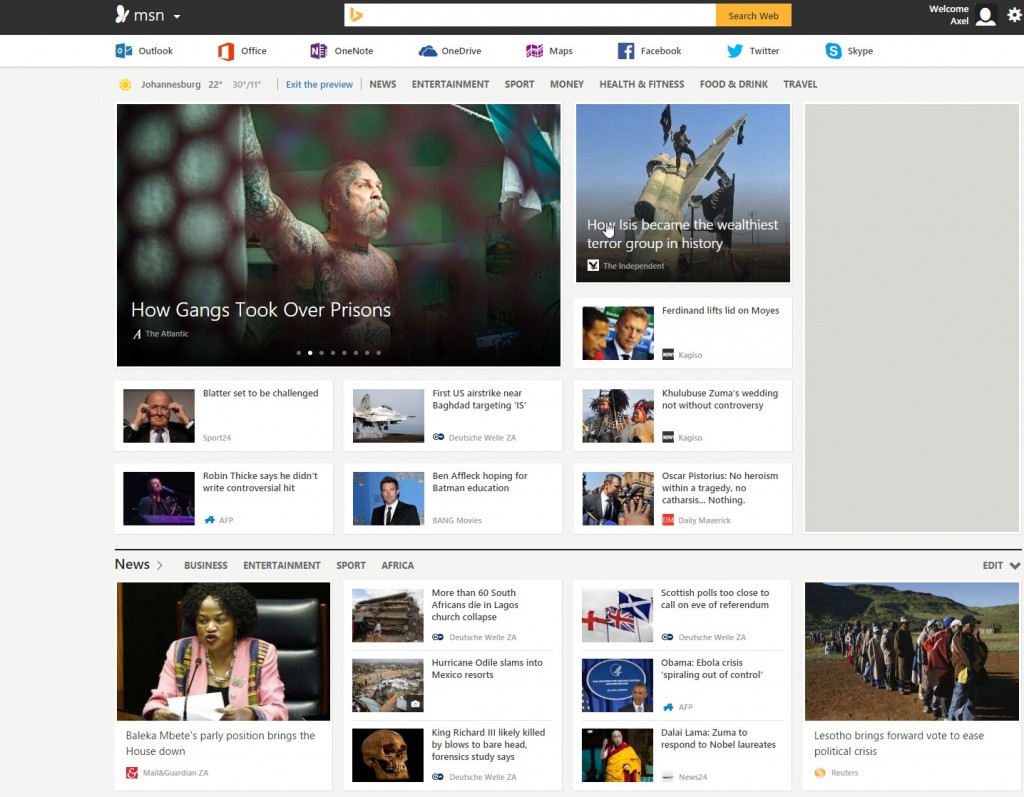 "To make MSN relevant in a mobile-first, cloud-first world, we have gone back to basics and redesigned the platform with that in mind. The new MSN brings together the world's best media sources along with data and services to enable users to do more," said Justin Dewhirst, MEA Regional Director, Microsoft Information & Consumer Experiences.
"The new MSN focuses on the primary digital daily habits in people's lives, helping them complete tasks on the web and across all of their devices, roaming data and personalized settings to keep users in the know wherever they are."
MSN has partnered with sources, including the New York Times and Motor Trend in the U.S., The Yomiuri Shimbun and The Asahi Shimbun in Japan, the Guardian and the Telegraph in the UK, NDTV and Hindustan Times in India, Le Figaro and Le Monde in France, and Lance and Estadão in Brazil, and many more.
In South Africa, Microsoft has partnered with local content partners, including Primedia, Media24, MoneyWeb, eNCA, Mail & Guardian, Daily Maverick, PlanetSport, Kagiso Media and Creative Spark.
Spanning 10 sections including sports, news, health and fitness, money, travel and video, the new MSN provides a global perspective from thousands of publishers across the world. Information ranges from the latest stats on over 200 global sports leagues, reviews of over 1.5 million bottles of wine, to recipes and more.
MSN editors are able draw from more than 1,000 sources to hand-curate content for individual markets and cultures.
According to Ian Drummond, Digital Sales Manager at Mediamark, "The new look MSN is set to revolutionise the digital portal landscape. The new design has been created with the user in mind offering curated and aggregated content from over one thousand local and global content partners".
New Opportunities for Brands
"From an advertiser perspective Microsoft is taking online advertising to a new level by ensuring an uncluttered canvas for brands to connect with users. The premium content ensures relevancy while the industry first guaranteed view ensure limited wastage," says Drummond.