South African small and medium business owners contribute nearly R530 billion ($38 billion) to the annual GDP by working beyond the standard industry hours for their businesses, according to a new global survey by Sage.
The world's small and medium business sector has added R115 trillion ($8.3 trillion) to the global economy through after-hours work. The survey by Sage, the market leader for integrated accounting, payroll and payment systems, highlights the true sacrifices made by entrepreneurs around the world. The sample included 200 small business owners in South Africa.
The contributions entrepreneurs make come at a price. Some 51% of South African business owners work more than 40 hours a week and 22% work more than 50 hours a week.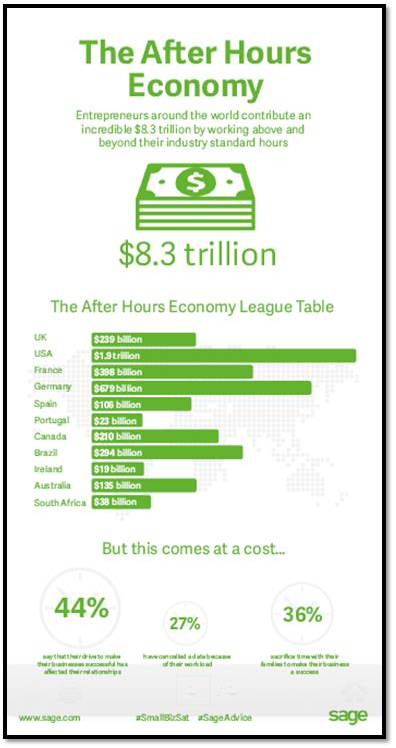 Around 44% of local business owners have chosen their work over their family and 26% have taken less than five days holiday in the last year. A quarter admits that their personal relationships have been affected while making their business successful, but 29% say it was worth it.
Furthermore, 29% of the country's business owners have cancelled a date because of work. Half of respondents in South Africa compromise taking holidays in order to make their business successful; 45% compromise their social life, and 37% compromise their own health.
Why do they do it? More than half (51%) say they are motivated by the love of their business, with 59% motivated by the sense of achievement, 60% by growing the business, and 58% by making money. Some 77% say that working outside their industry standard hours to make their business successful is worthwhile.
Paperwork is the bane of many South African entrepreneurs' lives: 35% say that more efficient administrative processes would reduce the time spent working after hours. Time management is another challenge, with 33% saying that understanding how to use their time more efficiently would reduce the time spent working after hours. On the upside, 64% feel smartphone emailing reduces the time spent working after hours.
Stephen Kelly, CEO of Sage comments: "We know it takes hard work and human sacrifice to turn a dream business idea into a way of life. This survey highlights the extent of that commitment. It is the entrepreneurial spirit that makes the difference all over the world, and the contribution of these businesses that powers the global economy. We should do all we can to support these heroes and recognise all those hours of hard work they are putting in after the rest of the world has gone home".
Adds Anton van Heerden, Executive Vice-President and Managing Director of Sage in South and Southern Africa: "Small business owners in South Africa are driven by a love of what they do and the sense of achievement they get from seeing businesses succeed. It takes hard work and human sacrifice to turn a dream business idea into a way of life, but the rewards are immense, both for the entrepreneur and his or her community. We are proud to stand with South Africa's entrepreneurs as they grow our economy."
Share your local small business success story with us
The research has been launched as part of a broader campaign by Sage to recognise and celebrate the contribution small business owners make to the global economy. As part of this campaign, Sage is calling for small business owners to let it know why they do what they do, via a short video submission.
Enlist in a Sage Advice session
Sage will also be running a series of advice sessions, from 30 November – 4 December. Each will involve a number of Sage executives, including CEO Stephen Kelly, and will address the key challenges of running a small business – as identified by the research.
To find out more about the video submission and the advice sessions, click here