A glimpse back at the office of 1990 would remind us of a workplace where fax machines and fixed telephone landlines were the main means of communication, writes Dr Marie Puybaraud.
Bulky monitors, desktop PCs and fax machines were the norm, and an inbox was a physical tray overflowing with paper. It would be another year before Tim Berners-Lee launched the world's first web site. Flexible or remote working were an exception.
Roll forward to today where electronic communication via the web, email and social channels is firmly established, where desktop PCs have largely been replaced by mobile computers such as notebooks and tablets.
Video conferences via FaceTime or Skype are commonplace with remote, flexible working practices gaining widespread acceptance. Without doubt, the workplace has come a long way in the last 25 years.
So, imagine a future world of work in 2040 where the next generation of knowledge workers, working in 'digirati' organisations, are totally in control of where, how and when they work.
A new report, the Smart Workplace 2040, describes a future day in the life of one of them, a digirati employee called Nina.
Born at the turn of the new millennium, Nina is a digital native, she has never known a world without the Internet and has grown up in an environment shaped by advances in digital technology and driven by societal transformation that places a premium on individual well-being.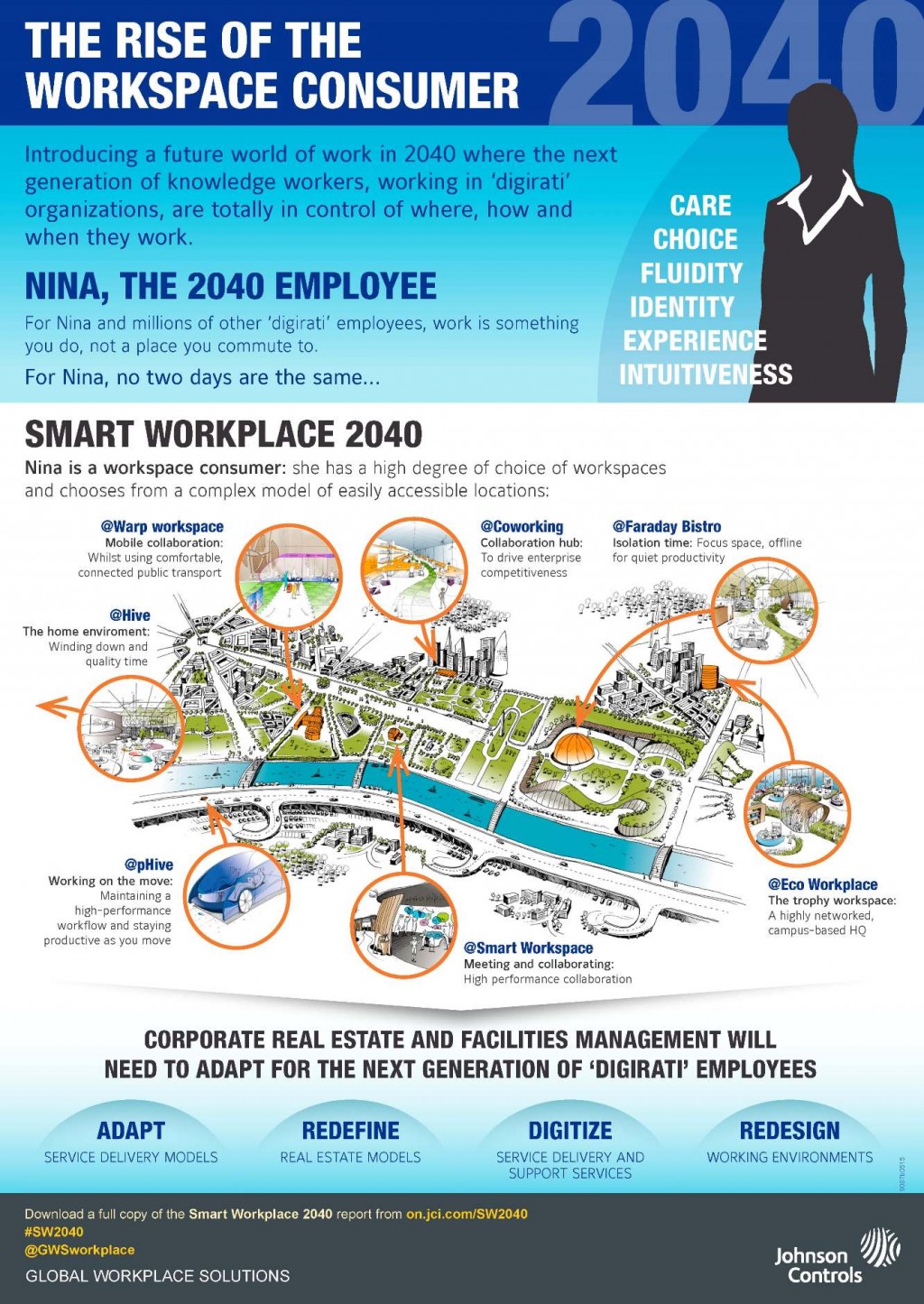 Fluid work schedules
Nina and others like her have high expectations around choice, experience and fluidity when it comes to work. She operates like today's entrepreneurs, relying on collaboration with experts and she isn't tied to any specific office. For Nina and millions of other digirati employees, work is something she does, not a place that she commutes to.
Nina lives in a smart home that adjusts light, temperature and ambiance according to her family's bio-health indicators. Intelligent machines carry out household chores such as cleaning or ordering and preparing food to match the family's daily nutritional requirements.
Nina doesn't commute to work; her patterns of work are radical compared with today, in that they aren't fixed around a place or timetable. Part of a new generation of workspace consumers, she chooses exactly where she wants to work.
Her work schedule is fluid: often it's at home; sometimes it's with co-workers on an Eco-Campus. When Nina wants to reward herself she can choose to visit a 'Trophy Workplace' where she can meet colleagues to network in a highly experiential environment.
This is not sci-fi
Far from being the scenes from a science fiction movie, these scenarios are the result of sophisticated future trends research carried out by Global WorkPlace Solutions (GWS), reviewed and challenged by industry experts.
The research has far-reaching consequences for organisations, corporate real estate management (CREM) and facilities management (FM) functions, which will need to adapt to the changing demands, aspirations and expectations of the next generation of digital workers described in the report.
CREM and FM will need to adapt to the changing demands of the next generation of digirati employees.
• Adapt service delivery models to fit, proactively and in real time, with the increasingly complex requirements regarding: choice; fluidity; identity; care; experience and intuitiveness in their daily lives.
• Redefine real estate models to meet the demands of employees wherever they are and at any given time of the day.
• Redesign working environments (single facilities, shared facilities, local amenities, service delivery and support services) to meet increasing real time demands.
• Digitise simple service delivery and support services to focus on human centric services that enhance performance. This would include developing intuitive web and mobile interfaces as well as invisible 'shy' technologies (e.g. motion detection) to track user activities and experience.
Research findings
A group of 26 industry and academic thought leaders reviewed and challenged the research, collaborating during a series of three workshops in the US, Europe and Asia-Pacific, where they shared their opinions and recommendations on the scenarios covered by the research.
The Smart Workplace 2040 will be radically different and redefined by:
• Adaptable, radical working patterns which will meet private needs and family constraints where there are no set hours for work, as long as the work is done. A typical day may include a blend of mobile productivity; virtual and face-to-face collaboration; offline time and quality time at home. Flexible contracts will be the norm.
• Choice – workers will decide where and how they want to work. Through smart, connected home technology that automates household chores and analyses productivity, home will become the main place of work. Future workers will also have a broad choice of alternative work venues.
• Location – 'Trophy workplaces' will be offered to workers seeking highly experiential environments to meet and network with other individuals, making visits to the "office" a luxury and a rewarding experience.
• Entrepreneurship will be the norm – technology will enable access to a wide network of skilled and experienced entrepreneurs who will flourish in incubator like workspaces.
• Collaboration – will be a major driver of enterprise performance and will be a core competency for every employee. High levels of interaction will be supported by team workspaces that have in-built collaborative technologies such as interactive video conferencing and immersive collaboration rooms.
• Services – human services will be seen as a premium offering: support services will enhance the experience as users interact with their surroundings. For example, coffee will be blended in accordance with an individual's mood, body temperature and blood pressure.
• Wellness – health and wellbeing will be prioritised over work with more time devoted to healthy (sporting) activities and personal time.
• Networks – future employees will rely on an extremely broad network of subject matter experts to carry out their work. Tasks will be shared amongst this team of experts users to "crowdsource" product ideas and co-create new features.
Smart Workplace 2040 recommendations
Technology will be ultra-predominant in every aspect of our daily lives. The predicted turmoil of change we are facing towards 2040, calls for a major transformation in our society, our lives, in organisations, as well as in the way we design and operate our shared workplaces. There will be far reaching implications for businesses, real estate and facilities managers, who will need to respond and adapt accordingly.
This transformation will include:
Human resources
• Dismantling the fixed 'office hours' model and shifting towards more flexible working contracts to increase the mobility of employees and entrepreneurs and support an emerging range of radical working patterns. For example, Nina is contracted to work 1,200 hours per year and her partner works 900 hours. How and when is entirely their choice so long as the ork is done.
Organisational structures
• Management competencies will shift radically with a highly dispersed team across a wide geographical area.
Technology
• Providing adaptable technology to meet changing needs – including longer term packaged solutions and shorter term solutions created on demand to meet employees' adaptability and the market's innovations.
Health
• Providing "wellness" services in the workplace (Eco Campus) to sustain the wellbeing of employees and avoid technological burn out.
Facilities Management
• Focusing work spaces on end users' needs and constantly evolving demands – technology based service solutions will need to be developed.
Real Estate
• Considering a dispersed real estate model with mixed facilities and multi-purpose environments to allow fast response to changes in user needs and to meet new customer utilisation patterns and demands.
Workplace
• Designing social, cohesive and adaptive working environments, empowering users and teams across different work contexts and collaboration modes.
• Developing intuitive interfaces to improve the user experience among highly connected users (digiratis).
Service delivery
• Responding in real-time to user demand by integrating invisible 'shy' technologies in facilities: to track user activities and record user experiences without the need for intrusive technologies within the environment.
The Smart Workplace 2040 anticipates important changes to our working environment. A concerted response from CREM and FM functions will help ensure the industry is fully prepared for the changes ahead.
Marie Puybaraud is director: Global WorkPlace Innovation at Global WorkPlace Solutions